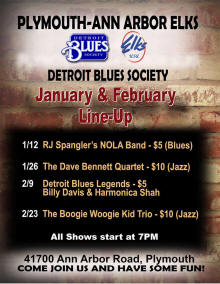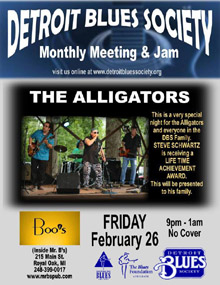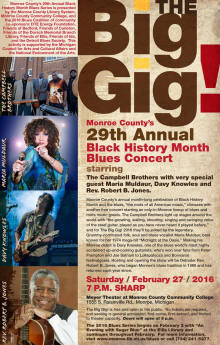 Do you have a subscription
to "Blues Notes"? JOIN NOW!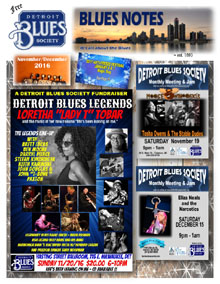 Support our friends (click here)



Congratulations and welcome home to all our
Detroit artists at the International Blues Challenge in Memphis!


And the DDBB winners are...
Dean Sherwood and Scott Allen!
(selected at random from all the correct entries)



2016 Lifetime
Achievement Award (Living)
Kenny Parker

2016 Lifetime
Achievement Award (Posthumous

)


Steve Schwartz


"...thanks for all you do for
keeping the Blues growing."
Bill Wax, Proprietor of Low-Fi's Bar and Pool Hall
on XM Radio Channel 74
Blues Background
Blues is about tradition and personal expression. At its core, the blues has remained the same since its inception. Most blues feature simple, usually three-chord, progressions, and have simple structures that are open to endless improvisations, both lyrical and musical. The blues grew out of African spirituals and work songs. In the late 1800s, southern African-Americans passed the songs down orally, and they collided with American folk and country from the Appalachians. New hybrids appeared by each region, but all of the recorded blues from the early 1900s are distinguished by simple, rural acoustic guitars and pianos. After World War II, the blues began to fragment, with some musicians holding on to acoustic traditions and others taking it to jazzier territory. However, most bluesmen followed Muddy Waters' lead and played the blues on electric instruments. From that point on, the blues continued to develop in new directions -- particularly on electric instruments -- or it has been preserved as an acoustic tradition.
Detroit Blues
Detroit blues is blues music played by musicians resident in Detroit, Michigan, particularly that played in the 1940s and 50s. Detroit blues originated when Delta blues performers migrated north from the Mississippi Delta and Memphis, Tennessee to work in Detroit's industrial plants in the 1920s and 30s. Typical Detroit blues was very similar to Chicago blues in style. The sound was distinguished from Delta blues by its use of electric amplified instruments and a more eclectic assortment of instruments, including the bass guitar and piano. The biggest Detroit blues performer to achieve international fame was John Lee Hooker, as record companies and promoters have tended to ignore the Detroit scene in favor of the larger, more influential Chicago blues. The Detroit scene was centered on Black Bottom/Hastings Street, a Detroit neighborhood.
Delta Blues
The Delta Blues style comes from a region in the Southern part of Mississippi, a place romantically referred to as "the land where the blues were born." In its earliest form, the style became the first African American guitar-dominated music to make it onto phonograph records back in the late 1920s. Although many original Delta Blues performers worked in a string band context for live appearances, very few of them recorded in this manner. Consequently, the recordings from the late 1920s through mid 1930s consist primarily of performers working in a solo, self-accompanied context. Either way, Delta Blues form is dominated by fiery slide guitar and passionate vocalizing, with the deepest of feelings being applied directly to the music. Its lyrics are passionate as well and in some instances stand as the highest flowering of blues songwriting as stark poetry. The form continues to the present time with new performers working in the older solo artist traditions and style; it also embraces the now-familiar string-band/small-combo format, both precursors to the modern-day blues
band.
Come visit often for more Blues News!
Article from All Music Guide
www.allmusic.com and reprinted with full credit to their efforts.
Welcome to our new website.
Please be patient and do let us know if you have suggestions for improving the site or if something doesn't seem to work properly for you. Check in with your phone or tablet and see what we have put together for you mobile users!
webmaster@detroitbluessociety.org