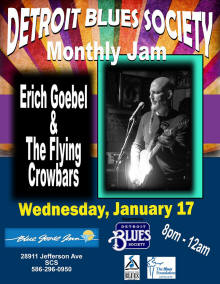 Do you have a subscription
to "Blues Notes"? JOIN NOW!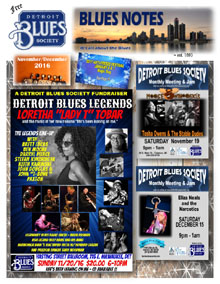 Support our friends (click here)
<<< Click on the small posters here to enlarge
Attention Members:
Some of our members have reported not receiving their postal-mailed newsletters. The Detroit Blues Society (DBS) wishes to apologize and assure you we are updating our mailing system and you will get your next issues promptly. In the interim, any members who did not get their copy in the mail either let us know and we will mail you a copy, or download an electronic (PDF) file from the link below:
To further help us reduce costs and offer more benefit to our members, please consider signing up to get your newsletters via email. It is quicker, and saves money. If you are interested please contact William Toll, Secretary at 810-762-5735 or by email at william.toll@detroitbluessociety.org
Election News:

2017 Nominating Committee:
William Toll
Steve Soviak
Greg Maxey
Jane Cassisi
Tom McNab
Any member in good standing may be nominated for a seat on the Board. If you are interested please contact William Toll, Secretary ASAP for inclusion on the ballot. 810-762-5735 or by email at william.toll@detroitbluessociety.org
Nominees for 2018 Board:
William Toll
Greg Maxey
Jane Cassisi
Tom McNab
Cynthia Davis
Victoria Linsley
Rob Butler - new
Tasha Owen - new
Tom Keeting - new
Ken Marten - new
There are ten seats available on the Board. The election will be held at the February membership meeting (date TBA). You need to be a paid-up member to vote.
Nominees for Lifetime Achievement Awards:
We apologize to our members for the postponement of the election of new Board from January to February, but we wanted to have more time to notify members and the busy Holiday season is quickly upon us.
Welcome Blues Lovers!

The Detroit Blues Society (DBS) is a registered federal 501(c)(3) non-profit organization dedicated to the preservation, education, and advancement of the blues tradition. It has as its primary goals to promote a wider appreciation for the blues by the general public and to serve the members of the Society. DBS provides members with the monthly newsletter Blues Notes. This serves to inform members and the general public regarding relevant news, schedules of upcoming events and profiles on our members. DBS schedules free blues jam sessions, usually on the second Saturday of each month (January-May and September-December), arranges discounts on merchant sponsored merchandize, discounted event tickets and administers an educational program.
Detroit Blues Society Members are encouraged to support the Society in its many activities and are welcome to attend DBS Board meetings. DBS also welcomes personal donations and corporate sponsorships.

Have questions? Need information? Have interest in joining one of the volunteer activities? Have comments, suggestion, additions or corrections to the web information? Please let us hear from you.
The blues has deep roots in American history, particularly African-American history. The blues originated on Southern plantations in the 19th Century. Its inventors were slaves, ex-slaves and the descendants of slaves—African-American sharecroppers who sang as they toiled in the cotton and vegetable fields. It's generally accepted that the music evolved from African spirituals, African chants, work songs, field hollers, rural fife and drum music, revivalist hymns, and country dance music.

The blues grew up in the Mississippi Delta just upriver from New Orleans. Blues didn't spread out significantly from the South to the Midwest until the 1930s and '40s. Once the Delta blues made their way up the Mississippi to urban areas, the music evolved into electrified Chicago blues, other regional blues styles, and various jazz-blues hybrids. A decade or so later the blues gave birth to rhythm 'n blues and rock 'n roll.

Well-known blues pioneers from the 1920s such as Son House, Blind Lemon Jefferson, Leadbelly, Charlie Patton and Robert Johnson usually performed solo with just a guitar. Occasionally they teamed up with one or more fellow bluesmen to perform in the plantation camps, rural juke joints, and rambling shacks of the Deep South. Blues bands may have evolved from early jazz bands, gospel choirs and jug bands. Jug band music was popular in the South until the 1930s. Early jug bands variously featured jugs, guitars, mandolins, banjos, kazoos, stringed basses, harmonicas, fiddles, washboards and other everyday appliances converted into crude instruments.

When the country blues moved to the cities and other locales, it took on various regional characteristics. Hence the St. Louis blues, the Memphis blues, the Louisiana blues, the Chicago blues, the Detroit blues, etc. Bluesmen such as John Lee Hooker and Muddy Waters electrified the blues and added drums and piano in the late 1940s.
"...thanks for all you do for
keeping the Blues growing."
Bill Wax, Proprietor of Low-Fi's Bar and Pool Hall
on XM Radio Channel 74


Get the latest Detroit
Blues Society SWAG!

T-shirts and more!.


Like us and check Facebook
for the latest Blues news!